LIVE BETTAS FOR SALE!
WE'RE NOW SHIPPING LIVE BETTAS DIRECT TO YOUR DOOR WITH USPS PRIORITY MAIL AND UPS NEXT DAY DELIVERY AVAILABLE! LIVE ARRIVAL GUARANTEE!
Live Plants!
From the MOST RESPECTED plant farm on earth! Tropica Aquarium Plants!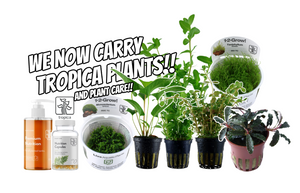 Hang On Back Perfection!
The Tidal Series from Seachem and Sicce is the best Hang On Back filter in the hobby and it's not even close! Easy to install, easy to maintain, tons of versatility and silent operation make this the filter you should have on your aquarium! Only the best for your precious fish!
OUR PROMISE TO YOU!
Every product available on keepfishkeeping.com has been hand selected by John and Lisa Hudson. With our years of experience serving the aquarium community we feel an obligation to only offer THE BEST products on the market! If we don't use it we don't carry it! 
Popular brands